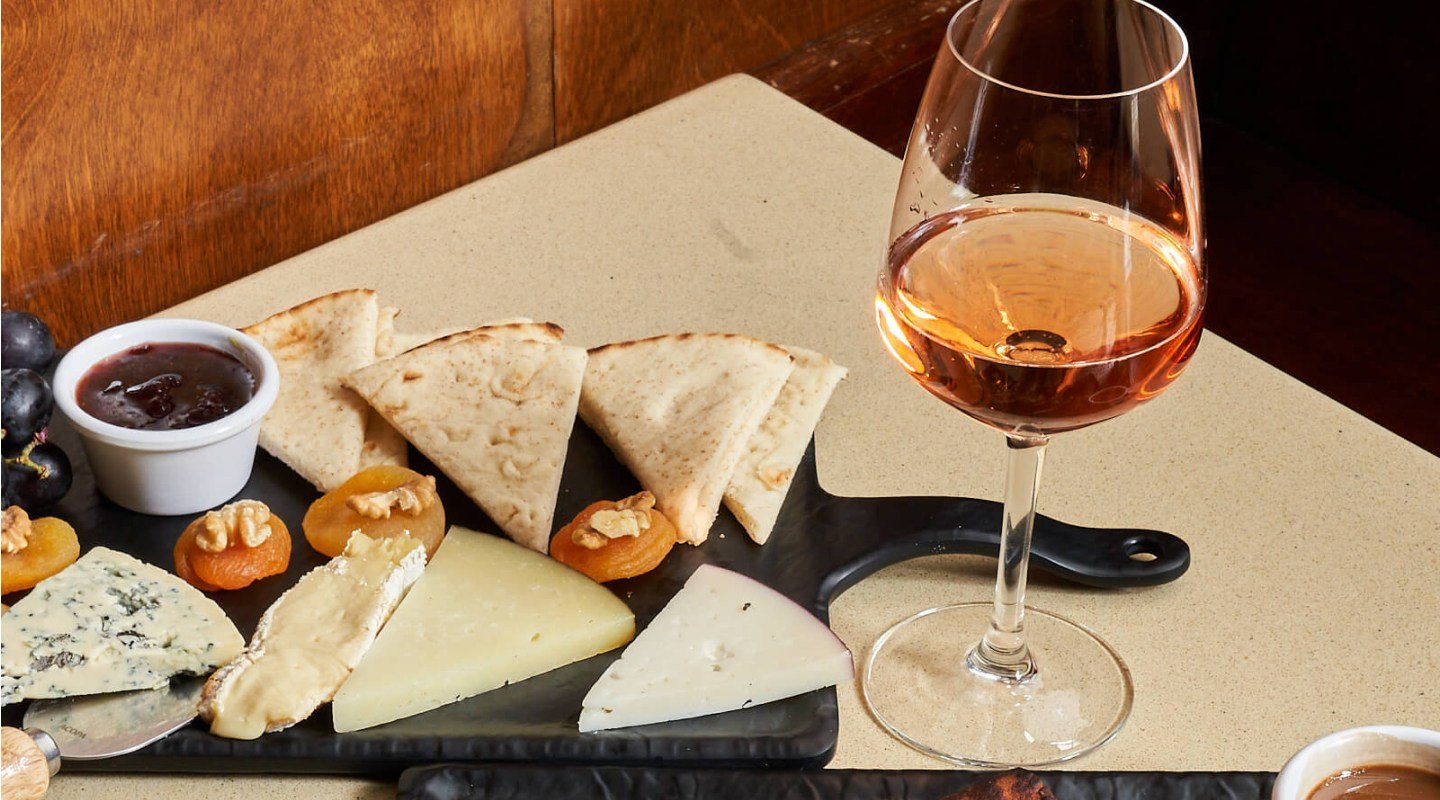 Our Menu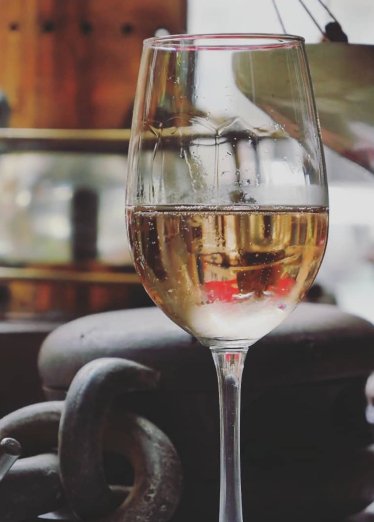 White Wines
Pinot Blanc, Zinck, France, 2018 Straight, fresh, with apple flavor followed by citrus, and a long dry mineral finish.
16 - 65
Pinot Grigio, Delle Venezie D.O.C. , Italy, 2020/21 Dry, fragrant on the nose bursting with citrus fruit aromas.
16 - 65
Riesling, Bex, Germany, 2018 Medium-dry. Floral and citrusy.
16 - 65
Chardonnay, Raeburn, California, 2020 The fruit is beautifully complemented with toasted oak, vanilla and hints of Crème Brulé with a balanced and elegant finish.
16 - 65
Sancerre, St. Martin, France Crisp, appropriately acidic, and aromatic.
17 - 70
Viognier, Le Colombier, France, 2021 light-bodied, dry white wine made from Viognier grapes that impart lemon, lime, green apple and pear flavors.
17 - 70
Orange Groove, Orange Wine, Languedoc, 2021/22 Made from white grapes and vinified like a red, with maceration of the solid parts.
20 - 80
Petit Chablis, La Chablisienne, France, 2020 Smooth, not very acidic, green apple taste, smells peary. The nose opens with citrus notes complemented by a refreshing vegetable hint. It then develops on a mineral touch.
80
Pouilly Fuse, Domaine Vitallis, Fr, 2020 Crisp, tight and mineral, this classic wine has citrus and apple fruits filled out with creamed pear
90
Ch. Du Pape, Domaine Du Vieux, Fr, 2019 Fresh, succulent stone fruit with a citrus backbone.
120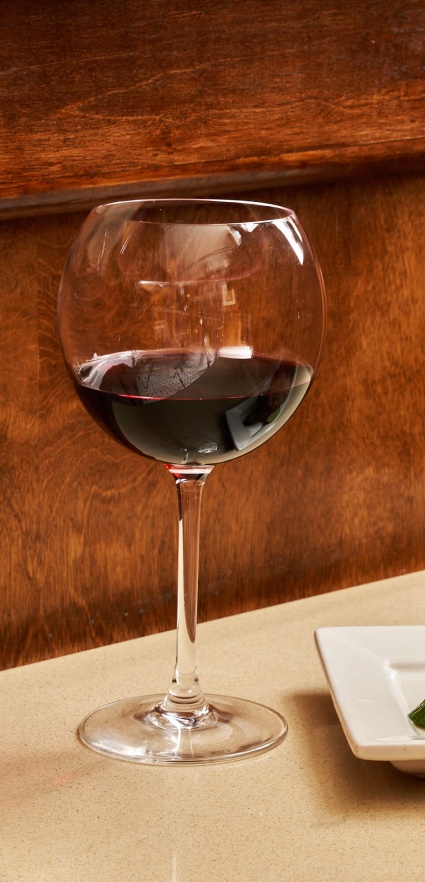 Rose Wines
Rose Loire, Touraine, France, 2019 Light, supple and delicate; spicy and fresh on the finish.
16 - 65
Provence Rose, Domaine Houchart, France, '20 On the nose, a basket of red fruits, peach and grapefruit. Vivacity, freshness, citrus aromas, with a lot of roundness on the palate.
17 - 70
Red Wines
Pinot Noir, Domaine De Bachellery, France, 2020 Medium intense aromas of strawberry, redcurrant, wetleaves. Slightly rough mouthfeel, medium length finish
16 - 65
Cabernet Sauvignon, French Ambush, France, 2020 Aromatic and warm spicy. 0n the palate this wine delivers ripe blackberry and fig with round, smooth tannins
16 - 65
Cotes Du Rhone, Parallele 45, France, 2019 Medium-full bodied blend of grenache and syrah.Dryappearance. Present but balanced acidity and tannins.
17 - 70
Bordeaux Superieur, Chateau De Hartes, Fr, 2019 Focused and fruity nose with faint toast in the background. The same fairly elegant aromatic combination flows through to the plate
17 - 70
Malbec, One Leaf, Argentina, 2018 A berry-packed fruity medium body and a warming, medium- length finish
17 - 70
Rijoa, Tempranillo, El Coto, Spain, 2017 Balanced with layers of fresh raspberry, cherry, spice and toasted oak, building to a silky finish.
17 - 70
Tugra, Doluca, Turkey, 2018 The varietal's crispy nature due to its strong acidity is balanced by its ripe fruit flavors yield a well-rounded, smooth, and medium-bodied wine.
17 - 70
K for Kapadokya (Unfiltered), Kocabag, Turkey, 2019 Made from the indigenous grape varieties.The wine is very balanced and has a pleasantly fruity note
20 - 80
The Friesian, Okuzgozu, Turkey, 2020 Ripe, rich, and generous fruit. Opulent, and easy.
90
Brunello, Carpineto, Italy, 2016 Aromatic with fresh rose petal, confected red cherry, and forest floor. The palate is somewhat savory with dried tomato leaf, tart cherry fruit, and orange peel.
160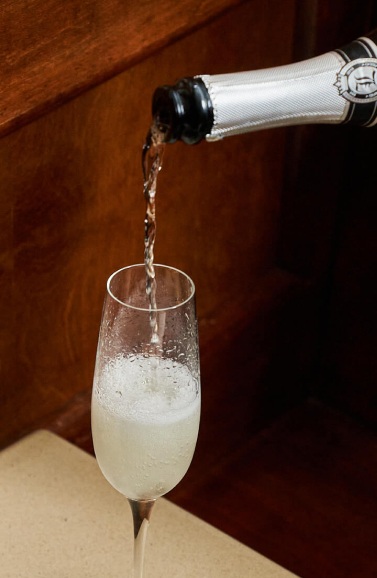 Sparkling
Prosecco, Terra Del Trebbia Extra Dry, Italy Italy- Defined and distinctive nose, offering up orchard fruits,crisp pears, and lemon curd, all of which come together in a rich, creamy off-dry style that is extremely appealing. The finish shows excellent length and fine overall balance. Perfect as an aperitif, well-chilled.
16 - 65
Lambrusco, Cantina Puianello Emiliaa, Italy Fruity aromas of red berries intermingle with spicy notes. On the palate, pleasantly semi-sweet fruit flavors come through. It is nicely balanced by light tannins.
80
Canard-Duchene, Brut Champagne, France The Cuvée Brut is the House signature. To the eye, a golden hue and delicate bubbles. To the nose, intense aromas of fresh fruit, typical of Pinot varietals. On the palate, notes of fruit coupled with hints of buttery brioche.
20 - 100
Canard-Duchene, Rose Brut Authentic To the nose, intense aromas of fresh fruits, predominantly strawberry and raspberry.On the palate, notes of red fruit and subtle spicy aromas.
100
Lombard Premier Cru, Extra Brut Champagne On the palate the wine is deep, full-bodied, crisp and focused, with zesty notes. Frothy mousse and very good length.
120
Ports
Porto Cedro, Ruby Excellent aromatic aroma dominating the wild fruits. In the mouth is a very structured wine with high quality round tannin
17
Presidential, Tawny An easy, fresh, ripe style, with dried fruits and a perfume note that is spoiled by the rubber character and some old wood.
17
Tatli Sert Narince White, Vintage 2010 Caramel, vanilla, and almond on nose.
16
Delaforce 10 Years, Old Tawny Ripe fruits are cut by acidity and given a shot of wood aging. Spice and old gold flavors lead to a delicious fresh aftertaste.
20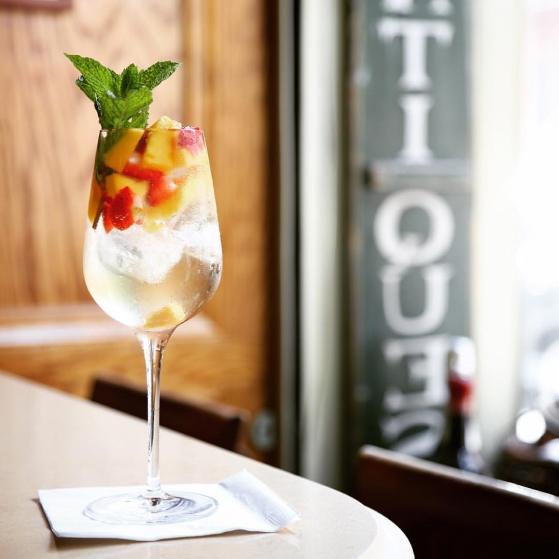 Cocktails
Aperol Spritz Low in alcohol, pleasantly citrusy and slightly bitter, it is a light and fresh aperitif that owes its flavors and aromas to sweet and bitter oranges, rhubarb, and gentian root.
16
Elderflower Spritz A refreshing Prosecco and Elderflower spritzer, made with sparkling Italian Prosecco wine, St. Germain liqueur, and bubbly mineral water.
16
Kir Royale A splash of crème de cassis (blackcurrant liqueur) topped with Champagne and served in a flute.
17
Negroni Sbagliato The "broken" Negroni, or Negroni Sbagliato, starts with Campari and sweet vermouth. In place of gin, though, the Sbagliato version sparkling wine
17
Mulled Wine (Seasonal)
16
Beers
Leffe, Belgian Blond Ale Deep, dark brown color and its full, slightly sweet flavor can be ascribed to the use of darkly roasted malt, making every sip just as exceptional as the last.
10
Delirium Tremens, Golden Ale Malty and spicy. The taste is characterized by its roundness. The aftertaste is strong, long-lasting and dry bitter.
12
BITES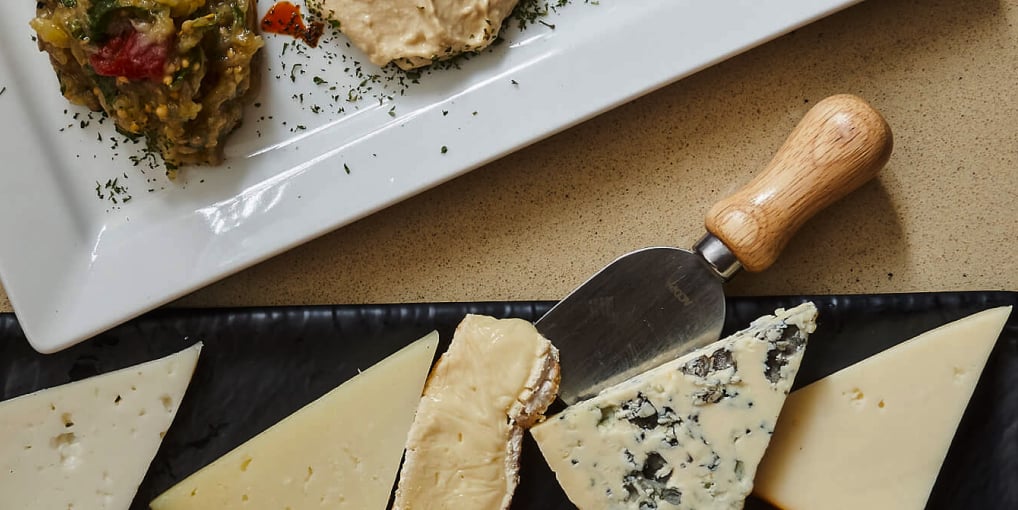 Hummus
homemade hummus served with warm pita bread
8
Spinach Tarator
strained yogurt mixed with walnut, fresh spinach, and garlic
8
Roasted Eggplant Salad
mixed with garlic, and spices
8
Mixed Nuts
spiced and roasted cashew, almond, and hazelnut
12
Falafel
served with homemade hummus
12
Kibbeh
cracked wheat balls stuffed with minced meat, onions, nuts served with yogurt sauce
*contains nuts
12
Flatbread with Beef Sausage
flatbread served with beef sausage, kasseri cheese, olives, and arugula with olive oil sauce
18
Tuna Tartare
ahi tuna mixed with sesame oil, avocado, scallion, tomato served with arugula salad
20
Cheese Plate
Aged Manchego, Smoked Gouda, Drunken Goat, Brie de Nangis, Roquefort, and warmed pita bread
30
Charcuterie Plate
Bayonne Ham, Saucisson Sec, Bresaola, Duck Mousse Pate, Mortadella, and warmed pita bread
30
Assorted French Chocolates
15
*Please inform us if you have any allergies or restrictions
*We charge $15 cover fee from our guests who wouldn't like to order any of the menu items
*Smoking cigarettes & e-cigarettes is prohibited. We reserve the right to refuse service.